Founded as a small start-up in 1965, Roger Cox and Associates has become one of New Mexico's largest and most successful real estate firms. Throughout our five-decade history, we've continued to demonstrate our expertise in commercial brokerage and investment, property management and development, all with a keen understanding of our unique community.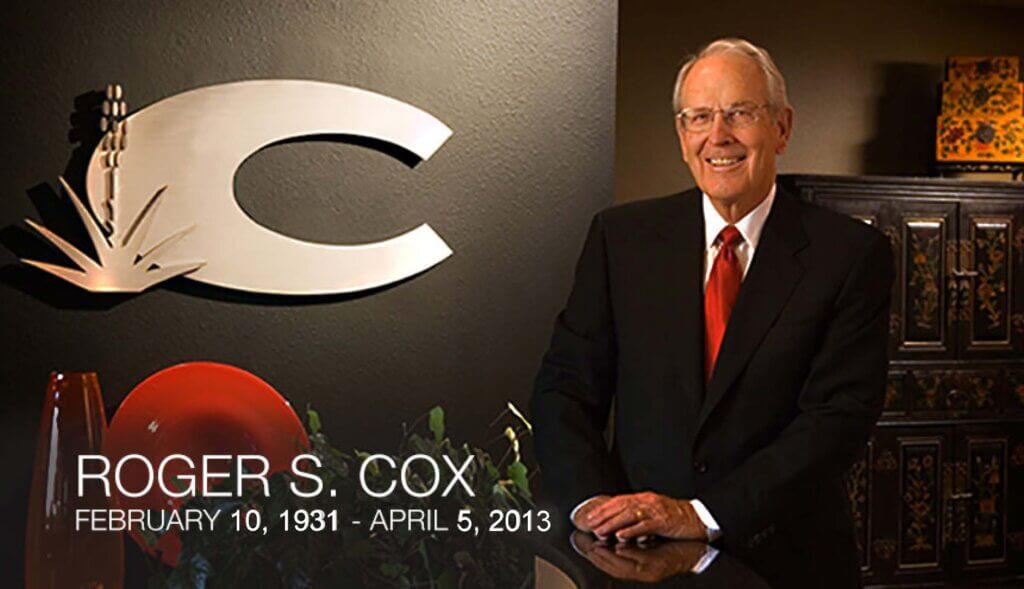 In Memoriam – Our founder, a New Mexico icon
When Roger Cox died in 2013, he left behind a legacy of innovation and perseverance that helped to shape New Mexico's real estate community.
Growing up on the Navajo reservation, where his parents owned a trading post, Roger learned the value of selling and of hard work early on.  A star football player at UNM, he was inducted into the Lobo Hall of Honor in 2009. Roger served in the military and taught physical education in the Albuquerque Public Schools before launching his real estate career.
Always a master negotiator, Roger was known to craft deals on napkins over lunch, and to bring people and ideas together in "magical interactions." His deal-making expertise resulted in some of the area's most significant real estate transactions, including the largest sale of contiguous land in New Mexico, on behalf of the Simms family.
---
A leader in New Mexico commercial and residential real estate development Roger Cox has developed, managed and sold many of New Mexico's highest-profile real estate projects, including:
Managed and leased downtown high-rises Sunwest Bank & Financial Center, with 164,000 square feet, and the First Interstate Bank Building, with 116,000 square feet
Negotiated the sale of some of Albuquerque's most prime real estate, bounded by San Mateo, Tramway, Montgomery and San Antonio (now North Albuquerque Acres)
Developed Los Poblanos Subdivision in the exclusive North Valley, a sought-after landmark with intimate residential development
Proposed, renovated and leased over 23,000 square feet in the old downtown Albuquerque Sears building to the General Services Administration, later adding 30,000+ square feet for the State of New Mexico Public Defender Department.
Negotiated a major lease with The Bank of New Mexico, requiring three major Albuquerque banks to reach an agreement
Developed Las Colinas Development in Las Cruces, with over 1000 lots
Developed over 2,400 acres in the Manzano Mountains
Developed Citadel Apartments, designed by premier Albuquerque architect Antoine Predock, Valle Grande Apartments, Canoan Village Apartments, and numerous other multi-family properties throughout Albuquerque
Developed and sold Rinconada Center in northeast Albuquerque
Developed the Osuna Corporate Centre on Osuna Road west of I-25 in Albuquerque
---
Paa-Ko Communities and Golf Club
With the development of Paa-Ko Communities starting in 1991, an award-winning 3,600-acre master-planned community in Albuquerque's East Mountains, Roger Cox created an upscale residential development with minimal impact to an exquisite location.
In 2000, Paa-Ko Ridge Golf Club was added to this successful master-planned development. The 27-hole golf course development is the most highly acclaimed golf course ever to open in New Mexico, with accolades that include Golf Digest's #1 Best New Course in America (2000) and America's 100 Greatest Public Courses (2000-2017), Travel & Leisure's Top 10 Desert Courses in America, Men's Journal's #1 Best Wild Course in America and Zagat's America's Top Golf Courses, Rated Extraordinary.
---
Roger was the first Realtor in the state to attain the Certified Commercial Investment Member (CCIM) designation, demonstrating his leading expertise in commercial investment real estate, and the company he built continues to emulate his unique and creative approach to doing business as it begins its second half-century.